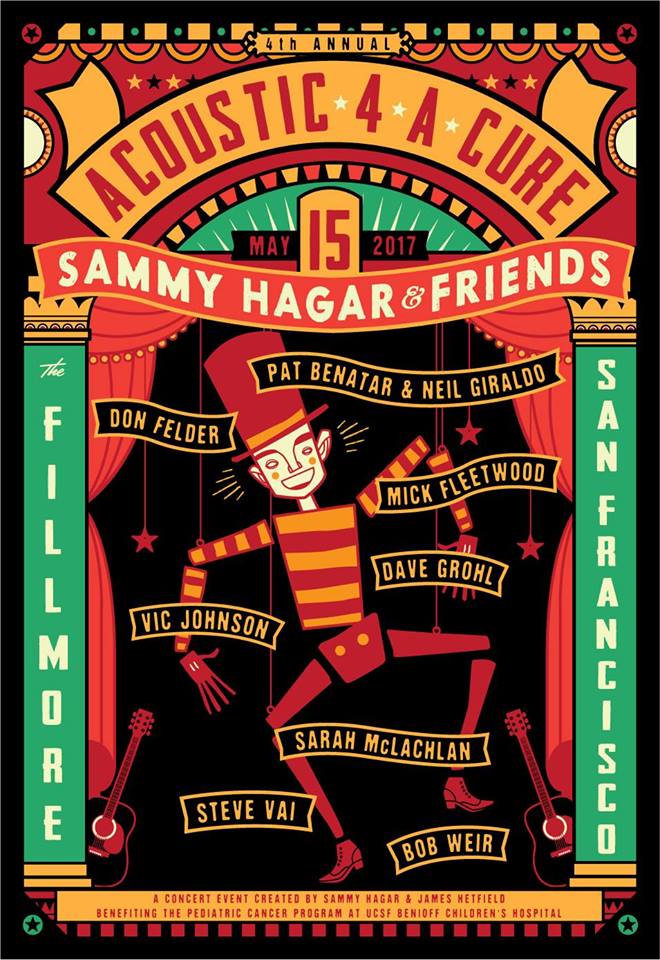 Steve Vai a San Francisco il 15 maggio per #Acoustic-4-A-Cure
Steve Vai suonerà al concert #Acoustic-4-A-Cure il prossimo 15 maggio 2017 al The Fillmore di San Francisco! Con lui ci saranno Sammy "the Red Rocker" Hagar, Pat Benatar & Neil Giraldo, Don Felder, Dave Grohl, Bob Weir, Sarah McLachlan & Mick Fleetwood. I biglietti sono in vendita su http://www.acoustic4acure.com/ dallo scorso 31 marzo.
Negli ultimi 4 anni, Acoustic-4-A-Cure è diventato presto uno degli appuntamenti più importanti dell'anno, con artisti leggendari in un set acustico, collaborazioni epiche e jam in una delle venue più importanti di San Francisco, come il The Fillmore. L'evento di beneficenza è ideato dalle leggende rock Sammy Hagar e James Hetfield, con l'intento di raccogliere fondi per la ricerca pediatrica sul cancro per l'UCSF Benioff Children's Hospital. Negli scorsi anni, artisti come John Mayer, Billie Joe Armstrong, Jerry Cantrell, Melissa Ethridge, Joe Satriani, Pat Monahan, Adam Sandler, Nancy Wilson, Linda Perry, Chad Smith, Vic Johnson, Tommy Lee e Kris Kristoferson si sono aggiunti a Hagar ed Hetfield per questo evento di beneficenza.