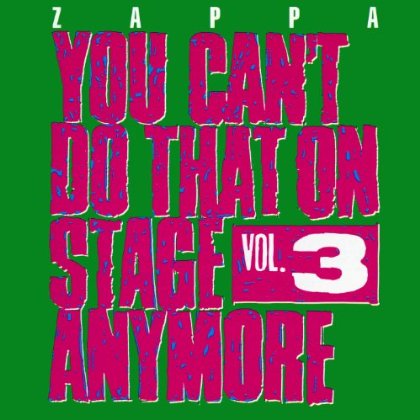 13 Novembre 1989
Frank Zappa
Rykodisc
You can't do that on stage anymore vol. 3 è un album live di Frank Zappa.
---
Tracklist disco 1
Sharleeza
Bamboozled by love/Owner of a lonely heart
Lucille has messed my mind up
Advance romance
Bobby Brown goes down
Keep it greasey
Honey, don't you want a man like me?
In France
Drowning witch
Ride my face to Chicago
Carol, you fool
Chana in de Bushwop
Joe's garage
Why dies it hurt when I pee?

Tracklist disco 2
Dickie's such an asshole
Hands with a hammer
Zoot allures
Society pages
I'm a beautiful guy
Beauty knows no pain
Charlie's enormous mouth
Cocaine decisions
Nig biz
King Kong
Cosmik debris