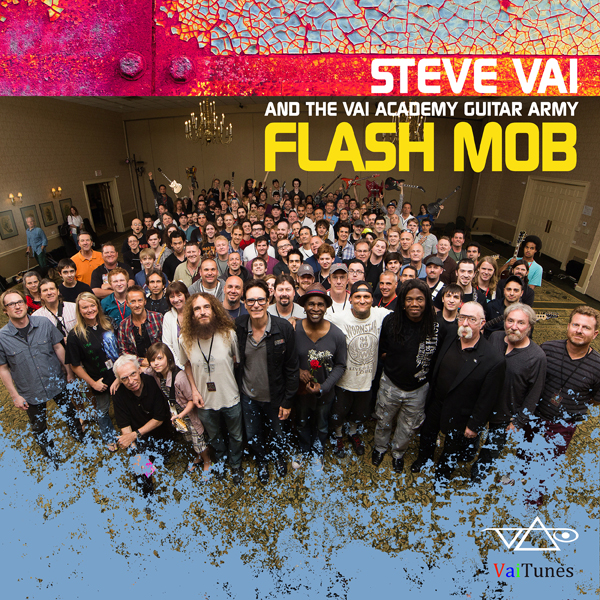 12 Novembre 2015
Steve Vai
Flash Mob è un epico inno chitarristico creato e registrato da Steve Vai & The Vai Academy Army. La traccia è il nuovo singolo del 'VaiTunes' ed è disponibile dal 12 novembre 2015 in tutti gli store di musica digitale. Tutti i proventi del download saranno donati alla 'The Make a noise Foundation'.
La The Vai Academy Army è composta da chitarristi a 6/7/8 corde che hanno frequentato la Vai Academy – Song Evolution Camp nel 2014. Registrato in parte nel Camp al Gideon Putnam Resort a Saratoga Springs a New York, Flash Mob include assoli e parti dei 155 partecipanti, tutti mixati in una sola traccia.
Il brano è stato registrato in una stanza impostata come un grande studio di registrazione con ciascuno dei partecipanti che suona attraverso piccoli amplificatori. L'idea della composizione è venuta a Steva dove aver visto dei clip sul fenomeno dei Flash Mob su Youtube, dove un gruppo di persone pianifica una performance davanti ad un pubblico ignaro.
"Amo questo brano, la sua melodia e le sonorità di tutte le chitarre la rendono un sogno a 6 corde, ma forse la cosa più affascinante e accattivante per me sono gli assoli", queste le parole di Steve. "Erano così divertiti durante la registrazione, e vedere questi musicisti fare quello che vogliono è sempre esaltante per me. Questo è quello che viene fuori dalla mente e dalle dita di miriadi di chitarristi. L'intero Camp è stata un'esperienza notevole, e quanto ascolto questo brano mi porta indietro a quell'ambiente e a quel gruppo di persone. Sono contento di aver fatto questo".